So, we've talked about how cryotherapy is wonderful for you and your body. But, did you know that cold weather is a great factor for weight loss too? During the winter, people tend to slow down on their exercise because they get the winter blues, they stop being motivated to go out, their energy decreases with the lack of sunlight, and they're eating heartier with filling hot foods. Fun fact: the cold weather actually helps weight drop faster than warm weather.
Here are a few tips we recommend to continue that exercise routine when the weather gets brisk.
Wear the Right Clothes – Sweat is great for exercising and in the summertime sweat can actually help you stay cool. In the wintertime, you still want to sweat, but you don't want to be soaked in your own sweat. You run the risk of your body temperature getting too low, if you're drenched, leaving you at risk for hypothermia or frostbite. To combat the possibility of too much sweat, avoid wearing cotton. This will soak up any moisture whether it be sweat or precipitation. Stick to fabrics that dry quickly such as nylon and polyester.
Layers are Your Friend – During the cold weather, it's better to have too many layers than not enough, especially if you're going to be outside for an extended period of time. Wear something with pockets or a belt-bag so if you do have to take off gloves or the scarf they can be tucked away easily. You'll feel more inclined to finish out the workout if you're not carrying around the unwanted layers.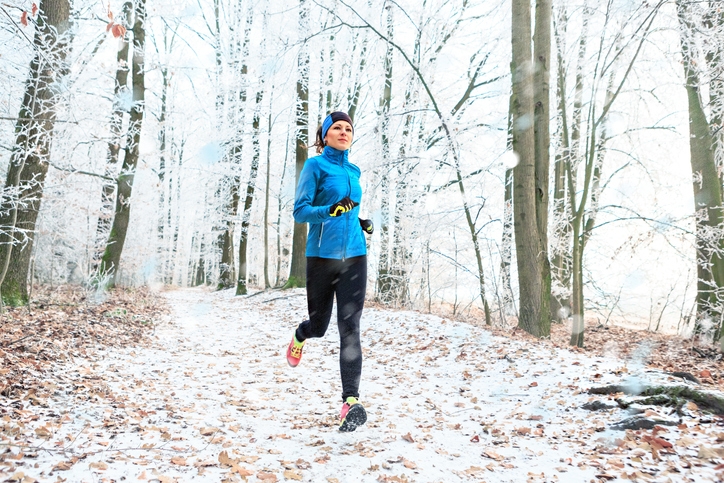 Keep Colors Bright – The brighter your colors the better. Neon and reflective colors are the best bet. Visibility is very important no matter what time of year, but it's essential during days where it's snowing, raining, or just overcast. It will also help to get some sort of light for yourself to help see where the ground is. You don't want to find a pothole or uneven ground with your ankle.
Protecting Your Extremities and Your Skin – Since the body is focusing on keeping your core warm, where all of the organs are, this means that the extremities are more exposed to the cold. Wearing a headband or hat will protect your head while, and pair of gloves or mittens protect the hands. Thick socks are also important so you don't lose feeling in your feet. While clothes can do their part, it's also important to stay moisturized and hydrated during the winter. Also just because it's winter doesn't mean you can't get sunburned. In fact, there's more of a chance of getting sunburned when the sun is reflecting off the snow. Sunscreen is a 365-day thing to keep your skin healthy.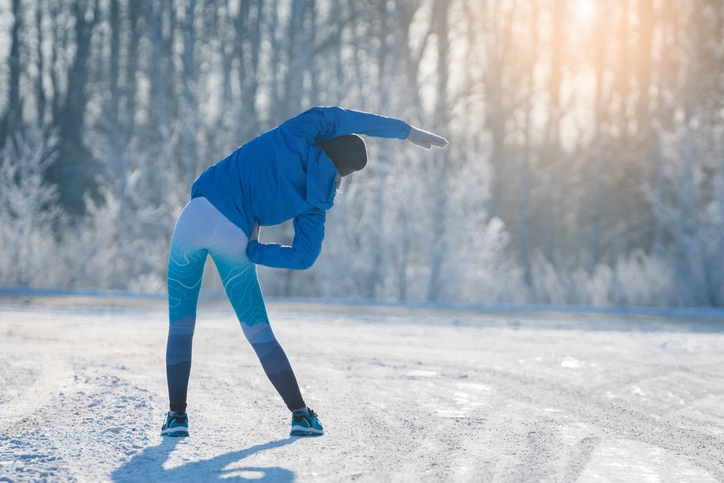 Get the Right Shoes – Traction is extremely important when it's slippery from ice and snow. The safest route is keeping to roads or surfaces that have been salted and plowed. If it a must to run in snow patches then infest in a pair of spikes to add onto your shoes. Don't walk on the pavement though as it could damage it.
Keep Your Breathing Consistent – The colder it gets the more airway passages narrow. Don't rely on breathing through your bare mouth because breathing in that cold air will help nothing. Breathing through your nose will help warm the air or wrap a thin fabric around your mouth such as a scarf or a bandanna to trap water vapor in while to help keep moist in your breath.
If the weather gets too bad to run you can always stop in at Total Cryo to schedule a session of Whole Body Cryotherapy!
Look and feel better about yourself, call Total Cryo today 215-262-6779, to schedule your treatments.
TOTALCRYO believes in being cool to your body with the best and most modern cryotherapy technology in the industry today.